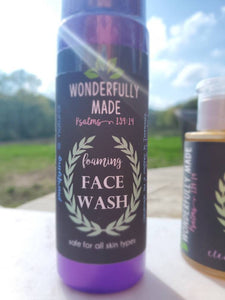 Organic Face Wash | Foaming Natural Facial Care | Gift for her | All natural | Moisturizing | Safe for all skin types | Cleansing Foam
Regular price
Sale price
$12.00
---
✷ OVERVIEW ✷
 Luxury Organic Foaming Face Wash is ideal for daily facial care. Utilizing natural ingredients such as Calendula petals, Lavender buds, Jojoba Oil and Frankincense Essential Oil, this face wash effectively cleanses skin while still maintaining hydration. It is gentle and safe for all skin types, but powerful enough to tackle a full face of makeup. For best results, use with our Radiance Moisturizer or Floral serum after cleansing as it leaves skin feeling squeaky clean and tight! 
 We also have the entire face wash set in a discounted bundle with Tea Tree Toner & Floral Serum, to save you money and hassel. 
✷ DETAILS ✷ Ingredients: Distilled Water, Organic Castile, Organic Lavender infused into Organic Jojoba Oil, Organic Calendula infused Organic Olive Oil, and therapeutic grade Essential Oils. Directions: Pump 1-3 times onto palm or wet cloth, massage onto damp face, rinse. Can use daily. Best followed with our Facial Toner & Serum.
Size: 6 fl. oz. -- bottle is now a black color instead of the purple shown in pics.
✷ SHIPPING + DELIVERY ✷ I strive to ship items in 1-3 days, however, some items may take up to 5 days. I ship USPS first class with tracking. You can also upgrade the shipping to USPS priority for faster shipping speeds! If you have a deadline that you need your item, just message me, and we will make sure it arrives on time!
✷ THANKFUL ✷ As always, thank you for supporting a mother in Tennessee. All items are handmade with the finest ingredients possible, all organic, wild-harvested, and local when possible, including several that are grown right here on our sustainable farm in Tennessee! All self-care apothecary items are handmade (by me & a helper!) in small batches with LOVE! 
✷ LEGAL INFO ✷ Our products are all natural and made with the finest ingredients, but always test spot first. If any negative reactions occur, discontinue use and contact a physician. All descriptions and info are for informational purposes only and are not intended to treat, cure, diagnose, or prevent any disease. These products have not been evaluated or approved by the FDA